Testimonials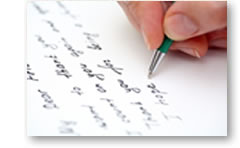 One great way to build credibility and add a personal touch to your website is to add testimonials. Five to seven testimonials will do wonders to show your potential clients that you care and take care of your clients.
How to obtain testimonials:
Ask 10 of your clients for testimonials for your website and other advertising purposes. Including the phrase "and for other advertising purposes". This will allow you to use the testimonials for other things such as brochures, enewsletters, and flyers.
Who to ask:
It is best to ask a variety of clients for testimonials.
Ask clients that love what you do
Ask clients that show the diversity of your services, or products you offer
Ask clients that are good writers
Ask a client that you could exchange a testimonial for their website

Editing Testimonials:
Not everyone is a great writer. After receiving a testimonial, have someone that is a good writer to look it over and make edits. Then send the edited version back to your client to have them approve the changes.
Displaying Testimonials:
There are several options for displaying the testimonials on your website.
Add a new testimonials page that shows all of them - $75 with coupon
Add an interactive script with "next" and "previous" control buttons to slide in the next testimonial - $125 with coupon
Add the testimonials to the website with an animated effect like a fade to transition from one testimonial to the next one. This will grab the attention of the visitor and the testimonials will cycle through on their own. The visitor will be able to see many different testimonials even if they are not interacting with it - $150 with coupon
Other questions to consider for displaying testmonials is where they should be...
just on the home page?
on every page?
on a new testimonial page?
should specific testimonials be on specific pages?
If your website does not have any testimonials, now is the perfect time to add them. If your website does have testimonials, now is the time to review them and consider if they need to be updated, moved, or displayed in a better way so that they have the greatest impact.
Creston Parker
WebSpigot.com